Sadly, I'm not a fan of summer beers.  I don't like beer known as summer wheats.   I'm an anti-wheatite. Sam Summer tasted too much like lemon pledge this year and just kind of made me go away from summer beers.   I've honestly gotten to the point where I don't buy anything that is somewhat yellow in color, Belgians included.  Don't ask me why.
One thing I've noticed that happens every summer is this: heat + salty foods + standing for extended periods of time + beer = Swollen knees, calves, ankles, and feet for Mr. King.  It's like I'm pregnant without the huge belly and craving for pickles or something weird like that.  I know exactly when it is going to happen because I feel an achyness behind my knee and tingling in my feet. It's gross. Like walk into a gym locker room 80 year-old naked guy gross.  I've even got tested for "the gout" before like those 80 year-old naked guys in the locker room.
I'm a runner.  I'm fit, I have skinny ankles and feet.  Give me a summer's day, a few beers, some sodium packed foods and my legs turn into the Marshmallow Man (Slimer was always my favorite anyways).  At one bachelor party it got so bad I had to take Midol.  I never heard the end of that.
Anyhoo.
Founders Devil Dancer  12% ABV
I think I paid about $5 for it from Old Town.  I had originally went in their looking for Apocalypse Cow (see below) and felt bad walking out empty-handed so I snagged this.  I wanted a good beer to drink while outside stretching after a run and I hadn't had this since the year prior.  This is what they refer to as a Triple IPA…No clue what that other "I" might be.  The beer is actually dry-hopped for twenty-six straight days with over 10 kinds of hop varieties ( I tried to find what kinds and failed…ok, I only looked on page 1 of Google).
Once again, Founders doesn't disappoint, hence the reason I am drinking this beer again.  The beer has a big malt presence with a warm, sticky, boozyness that lingers from beginning to end.  A very sweet IIIPA with aromas of tropical fruits and some grassy notes.  Towards the end of the beer the bitterness punches you in the face while the alcohol steals your wallet.  An easy combination that makes you feel like you just were mugged after the beer.  Definitely a must try if you have yet to.
4 out of 5 barrels
Smuttynose Really Old Brown Dog Ale  10.9% ABV
I bought this in Christmas of 2010 and have been sitting on it.  I opened it Wednesday night after a trail run at Waverly Park and figured I would sit home and enjoy a beer while Ashley was at the NKOTB concert (what the hell?). 
Smuttynose is by far one of my favorite East Coast breweries and Portsmouth is one of my favorite cities to run in.  Here is a picture of us downtown waiting for the Portsmouth Brewery (it's sister brewery) to open.
Ok, back to the beer.  Here is how Smuttynose describes it:
" Old Ale (also known as "Stock" Ale), is a full-bodied beer with high levels of dextrins. In times past, this beer was typically laid up to mature, hence the name. The color varies from rich, dark amber to a very dark brown. This style features fruity, vinuous & deep, malty flavors, giving it an almost port-like qualities. Sight acidity is not uncommon.
Olive, iconic mascot & spirit guide of our brewery, first appeared on our Old Brown Dog label in 1994 & returned, thirteen years later, to pose for our Really Old Brown Dog, a luscious, malt-rich, full bodied "old ale" featuring deep notes of complex fruit. Much like our beloved Olive, this beer will mellow & age gracefully."
I cracked the beer, poured it, and walked away for a while to mess around fixing the damn door handle which broke.  I came back to a real surprise.  I took a big whiff and soon realized it wasn't just a bigger version of their Old Brown Dog, it was actually an Old Ale (I never read above).  The nose was full of raisins and toffee and smelled awesome.  A great smelling beer.  Upon taste, my mouth was reminded of a barleywine with a sweet malt taste and a sticky mouthfeel accompanied by brown sugar, bourbon, and syrup.  Where are the pancakes!  A beer which suits my favorite styles and tastes in one bottle.   This beer just moved into my Top 10 list and will be sought after when I return to the East Coast.  Now, time to go get a dog.
5 out of 5 barrels
3Floyds Apocalypse Cow  11% ABV
I grew up on a cattle farm for the better of 18 years of my life until I graduated high school.  I woke up to the smell of cow manure and mooing most mornings.  You get used to it.  For fun, we shot rats with BB guns as they foraged through the giant piles of cow poop for leftover feed.  As a child, I always thought the cows were scratching each others backs.  As I grew up, I quickly realized scratching backs was not what they were doing.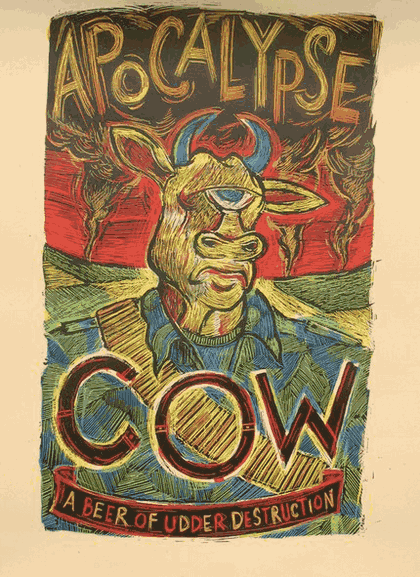 First tasted this beer on a pit stop in Munster last year and took some back to Kentucky.  Your typical Imperial IPA but lactose milk sugar is added to switch things up a little bit.  Like Founders above, 3 Floyds has never done me wrong (although the Dogfish Head collaboration, Poppaskull, was borderline).  A very citrusy IPA with nice fruity esters on the nose along with a sweet honey.  The same smells are followed up on the taste with a balance of the hops and a heavy mouthful thanks to the lactose (also to blame for the sweet taste as well along with the hops).  Not a beer I have to stock up on, rather a beer I have to try at least once a year when it comes out.  A nice change from your everyday drinking IPAs.
3.75 out of 5 barrels
Thirsty Dog Bourbon Barrel Siberian Night   11% ABV
Ashley and I went out to dinner with some friends last week at the Grape Leaf, which was awesome, and then decided to stop at the Holy Grale because it seemed like we hadn't been there in ages.  I ran into my buddy/fellow beer drinker/fellow blogger/partner of the website kind, Beau (justdrinkbeer.com and derbycitybrew.com), and he made this recommendation to me.  As soon as I scanned the list of the beers, I knew this would be my selection either way…but Beau was spot on about the beer.
Faint notes an oak and bourbon nose to the beer along with some dark chocolate.  The beer has some legs to it as well.  Upon taste, chocolate covered roasted malts come through alongside a nice cup of coffee in the beer.  Nice boozy burn to the end which sticks to the roof of your mouth.  Little bit of vanilla and oak at the finish as well.  Overall, a very well-balanced bourbon imperial stout with no one flavor dominating the others.   If we would have stayed for another beer, I would have ordered another and slept well into the morning.
  4 out of 5 barrels